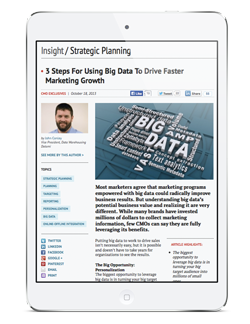 Insight/ Strategic Planning:
3 Steps For Using Big Data To Drive Faster Marketing Growth
CMO.COM | Digital Marketing Insights for CMOs
by John Conley, Vice President, Data Warehousing Dotomi
---
---
Most marketers agree that marketing programs empowered with big data could radically improve business results. But understanding big data's potential business value and realizing it are very different. While many brands have invested millions of dollars to collect marketing information, few CMOs can say they are fully leveraging its benefits.
Article Highlights:
The biggest opportunity to leverage big data is in turning your big target audience into millions of small ones.
Massive parallel data processing is necessary in order to ingest numerous data sources and channels in real time.
Validated testing across more than 170 leading retailers has found that personalized media programs yield significant incremental sales results.

XtremeData, Inc. CMO 3 Steps For Using Big Data To Drive Faster Marketing Growth285.98 KB23/01/2014, 17:15